San Miguel / Santa Rosa (click for more photos)
The last dive of the year is typically on the Peace as far west as we can go. This year 'Carl go' was all the way to San Miguel Island arriving at Judith Rock just after dawn on Saturday the 4th of December. Surface conditions were less than pleasant, however, as an unusual southeast swell combined with a northwest swell and wind chop made for a rather ugly scene. As it turned out this was to be the worst we had to deal with.

All of our dives, on the first day, were between Point Bennett to the west and Crook Point towards the east. Diving conditions varied little below the surface with 30 to 40 feet visibility, 55ºF temperature, some surge and depths from over 100 feet to about 40 feet. As stated above, surface conditions improved dramatically as the day went by. In summary, we dived Judith Rock area, Adams Cove, Wychoff Ledge, Crook Point and two dives between Wychoff and Judith Rock for six dives in all. Not bad at all. We overnighted near Tyler blight, very comfortably.

Sunday early AM found us on flat calm water cruising to the Wilson Rock area. The site picked, known as Skyscraper due to one slender pinnacle rising some 30 to 40 feet above the basic reef structure, turned out to be rather more challenging than perceived from surface conditions. The dive was spectacular with depths on the reef from 70 to 130 feet with further drop offs to many feet. Typical heavy growth with difficult to spot scallops. On or near one of the walls some surge was noticeable, between the walls surge was very strong and challenging with 40 to 50 feet motion and up currents and down currents to boot. Most computers signaled excessive ascent rates!! Visibility was at least 60 feet and temperature again the mid-50's. Back on the boat surge was the major topic of discussion. Armend with below water data, one could observe the large swells coming through, we were all lulled by the calm appearance of the surface.

The second dive, second day, was again a deep pinnacle dive on Egg Rock. With much less surge this was an easier dive. Depths to well over 120 feet but there was much to see and do at depths below 70 feet. Scallops once more. The final two dives were in bug territory at Talcott Shoal. The really determined found over a dozen legals including a couple of 5 or 6 pounders. We made two dives about 200 yards apart.

We left for home late and thus did not arrive at Ventura Marina until 7:00 PM. Peace and it's crew did the usual outstanding job and the second day of diving is as good as it gets in early December at San Miguel. The first day was very acceptable. All in all a nice early Xmas present.

Boobies we had. Peter L. for falling flat on his face on the boat just before the first dive. Dave G. for attempting to dive without his weight belt. Both received past King Harbor CleanUp t-shirts. T-shirt awards for any kind of boat dive "entertainment" will be a feature of our year 2000 boat dives.

DECEMBER QUOTES...
"I'm going to the prom and I'm forty years old." "We've been here awhile."
"Are you diving or just holding court?..." "... Holding court!"
"He's writing quotes already!" "Rock and serious roll!"
"I had enough stress, time for a nap..
"...Do you want one of us to take your computer diving?"
"You were right, not a great spot."
"I'm all slippery!"
"The Opal Eye should all start running."
"Hey Dave, put in a lot of bottom time, you're diving for the both of us."
"There's actually a diver going in the water."
"You know when you close your eyes and the sun is in your face you see red? When you did it with the flag flickering, it's kind of psychedelic."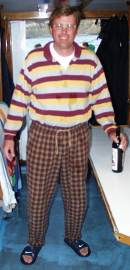 "My oh my. You're all dressed up for the evening. Are you a guest at the Captain's table?"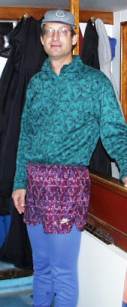 "if you're joystick is not working, you're flying the wrong airplane!"
"Was www.naked.com an accident?"
"Put that thing away."
"Anything from Grossman takes 15 minutes."
"Sounds like a good movie."
"Dexter does it different."
"The bugs are always where you weren't."
"Don't tell him, he could win the booby prize for the day."
"Gus went to 170 feet - still surgey."
"Do you have a 'Booby of the Year'?..."
"...Delaney must be in the running most years. "
"I saw Delaney and thought I must be much deeper than I was. I checked and it was only 100 feet."
"It's Mister Nap!"
Cortes/Tanner>Catalina/Santa Barbara
We left 22nd Street a little after 11:00 PM bound for Cortes and Tanner Banks. At around 1:30 AM we were passing the East End of Catalina. After many hours of cruising, dawn showed us anchored near the East End of Catalina!!! Large swells, later to 17 feet, had caused us to try for San Clemente from two angles, one from the East end of Catalina and one from the West End of Catalina. No go, either way. So for the third time this year we had to fall back to Catalina,. Ah well!
This first day of diving began at Little Farnsworth with 60 feet visibility, calm, no current and mid 60's temperature, depths to 120 feet. Real nice. Being short of dive targets we elected to dive the wreck of the Valiant in Descanso Bay. Always a nice dive, conditions were near perfect. There was a 12 degree thermocline at about 65 feet, so it was much cooler at depth. A few lobster there were. We cruised north and west picking off dives at ~0, Long Point, Middle Quarry, Eagle Reef, and Isthmus Reef where we overnighted. All the dives were in calm clear water, mid 60's temperature, minimal or no current under a clear sky with hot sun. Just one hell of a nice day and some of the better diving at Catalina, eight dives in all including a night dive for a few. We had just a few bugs on board.
In the early hours of the second day we began a run to Santa Barbara Island. After essentially one circuit of the island we anchored off Arch Point in about 80 feet of water. It was calm, with no current, visibility at about 50 feet but much cooler temperatures in the mid 50's. Bugs there were, not a lot, not big, but they were there. We motored to the West side and made two dives about one quarter mile apart. There was a slight current which was building on the third dive. Bugs were "in shallow" were it was surgy, visibility was about 35 feet and 20 feet in the surge. Sea Lions everywhere, including late pups. More bugs in small (legal) size and in small numbers. The final dive was at The Arch (a.k.a. Bird Shit Rock) on the south side. This dive was noted for a strong current causing several divers to surface way down current. Remember guys, swim into the current, ride back to the boat!! In all there were about 20 bugs taken most just or a little above legal. Seems like all the islands are "fished" down to the 3¼" limit!!! 'Twas another beautiful day.
All in all Tim B. and Company made a nice recovery from Thursday night. We had two days of excellent diving and made off with a few bugs.
We had one near booby. Kathleen T. forgot to strap in her tank and while putting her gear under the bench was almost zonked by her own tank. Kathy D. caught it just before it nailed Kathleen. We also had one mystery (appropriate for Halloween Weekend!). I was standing in the galley doorway, when a pair of panties floated down from the deck above. Boat divemaster Don, checked them out and then yelled into the galley, "Joanne, are these yours?" The reply from the galley was "Yes they are..." He looked at me and said "Don't ask how I knew." The mystery of the Identified Flying Lingerie (IFL!).
The run back was nice and hot, ocean calm. The food was excellent and as I said above Tim B. and Company made a nice recovery.
OCTOBER TWO DAY QUOTES...
"Why did you bring this?"
"Now she's acting like a little lost female." "Don't wack it that hard."
"You could hug that light and stay warm."
"You can turn it over and do it the other way."
"I'm actually lighter than I was when we saw you last year."
"Hidey Ho!..." What did you call me?" "Hairballs?"
"Modeled the shirt. Sold one."
"Catalina. Good thing I fixed all those lights last night."
"It's only ten to ten, not quite time for a toddy..." I've no problem with a toddy at 8 AM!"
"The boys are being held in just fine by the beaver tail."
"I know what I'm doing honey... .No, YOUR left, not mine!"
"This guy had a bad day. It took real talent to get that boat so high on the rocks."
"Would you like a browni? No, but I'll take a Boy Scout!"
"I'm just a subservient woman waiting on my man.
"John would be so proud!" "What's for dinner?. .Dead bird."
"That's disgusting."
"Another low speed chase in a white Bronco?"
"P. Novak, who the #*! @% is that?"
"Hey Pierre, do you think I'm delicate?"
"Joanne, are these yours?... Yes, what were you doing with them? They're all wet!"
"Either come back with lobsters or a good line of bulls__t..." No bulls__t, but I can tell you about the current!"
SURFACE
Bugzilla / Talcott Shoals, Santa Rosa > Gull Island Santa Cruz
Our October 13th, Wednesday dive to Talcott Shoals was anticipated to be an exciting event. It was the second Wednesday of the season and the bug grabbing should be fresh and intense. The WAM, "Wave Model" forecast that we link to on our web page showed a great day for Tuesday with some big seas due for the weekend. Our hope was to have Tuesdays forecast extend through to Wednesday.
The Peace Wednesday open boats bring out a hardy group. For the week of our Bugzilla dive the Peace open boat was on Tuesday and they went to San Nic. Sea Diver Bob Davis, was on that trip and pulled a 12# Bugzilla from a secret spot near the Boilers at San Nic. This set the tone for the evening of our departure. Our quest was to begin.
A moderately bumpy ride led to a rude eye awakening at the South side of Santa Cruz Island. The winds had picked up shutting down the North side of Santa Rosa. Talcott, like the outer pinnacles of San Miguel, is a weather dependent site and unfortunately was scratched from the menu of the day. It appeared that Bugzilla won the poker hand with Neptune the night before. To add more fodder to the brewing tempest we had a strong south swell that made a nice shore break that any surfer would envy. The what else was ripping currents for most of the day.
In strong Sea Diver spirit we dove our best in search of the legendary monster bugs. Round one was at Morse Pt. The bugs were seldom seen, however some Barracuda cruised by. A move to NW of Gull Island was a test in drift diving in a snow globe. This is where you swim upcurrent for most of the dive, drift back to boat in 3 min. and swim like hell to catch the current line. In the mean time the surge stirs up the sand as if you are in a snow globe that someone has just knocked off the coffee table. A couple of bugs were taken as samples for further analysis back home. A short move to SW of Gull Island, to get upwind of the stinky white stuff on the rock proved to be a better choice. Purple Hydro coral in the shallows with a few lobster landed made it nice. The final event was held at "The Fenceline" a familiar spot off the east end of Santa Cruz. The current was still our uninvited guest. We anchored just west of a kelp bed near a small ledge that ran like a fence line to the island. Shorties were the norm, but a few keepers were found.
All in all about 10 or so lobster were caught in about 15' to 45' depths of diving. Nothing landed warranted a press release, but a nice sunny day made it a pleasure to take a sick day off from work. We had a strong contingent from Napa and a future Sydney 2000 Olympian join us making for a good group of divers. Hopefully, next years dive we will have the upper hand…. on Bugzilla.
CB
SURFACE
Quotes from poop deck or things most commonly heard above the intertidal zone:
"Your from Napa…where is the wine?" "Your from SoCal…where are the lobsters?"
"Winds, currents, that's nothing…bring on the fire and brimstone."
BAM…"Nice jettison of a perfectly good tank." "That's just how they make an instant freediver from scratch."
"Is that a bug in you bag or are you just happy to be back on board?"
"Hot spots!" "Somebody should kill the messenger"
"Bugzilla called in sick today"
"Where is the SPF 99? I can't explain a tan at work tomorrow."
"My boss is on board and I called in sick, what are his chances of seeing me?"…"Oh, you mean what are your chances of survival!"
"I gave up my day job for this?…No, I could give up my day job for this."
"It is a little know fact that when lobsters get as big as the boat, they spew fire. That is because not many have lived to tell about it."
SAN MIGUEL PINNACLES(click for more photos)
With the Southern California weather this year being somewhat on the weird side, we were not sure what to expect on our Peace two-day to San Miguel Island. The ride out overnight was smooth and just after dawn a trip on deck showed no visible islands, only a relatively calm ocean in heavy fog and overcast. When the boat engines wound down, Richardson's Rock appeared out of the murk. So that was it, calm but heavily overcast, the story for the two days. Great diving, if a little dark down there, but no (nada, zero) sun.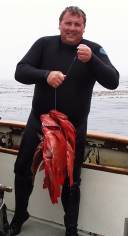 On the first day we dove Richardson's Rock, Castle Rock, both sides and on the second day we dove Boomerang Bank and Wilson Rock. An unusual Grand Slam for San Miguel's major pinnacles. In all, six dives on the first day and four on the second. The Richardson's dive was beset with a very strong surface current and little illumination at depth. Visibility was in the 30 to 40 feet range and temperatures in the high 50's F. This was typical for all the pinnacle dives, except that the current factor occurred only at Richardson's. Scallops were the favorite on the pinnacles, followed closely by vermilion rock fish but the photographers and videographers were definitely not disappointed.
Other dives on the first day were Westcott Shoals, Simington Cove and Cuyler Harbor where we overnighted. After the Boomerang and Wilson dives on the second day we dove Bat Rock, and Middle Rock. Most of the "other dives" had less visibility than the pinnacle dives.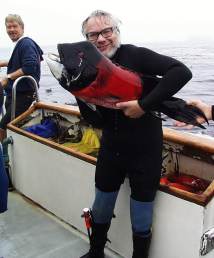 All in all a great two days of diving, in fact I (we) don't remember the last time we spent BOTH days at San Miguel, especially on the west and north sides of the island!!
Boobies we had! John D. made the first dive at Richardson's all of his (three sets) electronics on the boat. On the third dive, near Castle Rock, he sent one of his computers down with Skipper/Owner Eric B. "to catch up"!! The next day John D. came up 100 yards down current at both Boomerang Banks and Wilson Rocks. He also dived both days with a B.C. borrowed from the crew as 'Mr. Dive Store' forgot his backpack! Way to go John!! A long way back in second place was Peter L. who made a flying leap for the anchor line at Richardson's, with his BC not fastened. He looked for all the world like he was flying in his B.C. making a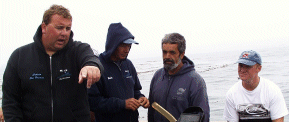 major belly flop within 3 feet of the line!!! Very entertaining. Peter also speared a large sheephead, which seemed almost as large as he was, carrying it across the deck to the filet board like a baby! Also very entertaining. John and Peter, we thank you for adding to our days.
As always, the Peace, Skipper/Owner and the crew did a fantastic job. The food was outstanding and the crew help was always there. Hell of a great trip.
SURFACE
SEPTEMBER QUOTES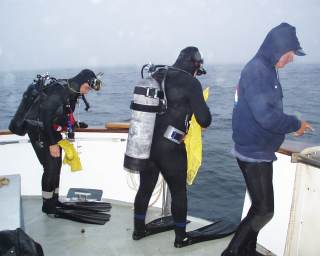 "Brother John Delaney…"
"…and the Reverend Chris Grossman…"
"…Wow!!!"
"I understand, because of my Catholic education."
"I don't get it. You got carded and I got accused of being a guy! I should have flashed her!"
"The Martian Defense System kicked in again."
"I've got a new sleeping bag…What's her name?"
"The ones on my side of the bed that bit me were all dead."
"I can't swim, so leaping for the anchor line was my only chance."
"Too many equipment problems today, even my mask leaks!"
"Left all my electronics on the boat again."
"That's good, they all came back."
"So what did you screw up on this dive John?"
"You're down in the galley early, the veranda must be cold."
"Nothing tickles my fancy."
"They didn't have 'Space' when he went to college, they only had 'Aero'."
"There's the sun for the day, check it out."
"Nobody knew I snored until one trip you guys weren't on the boat!"
"I saw a diver way over there, Delaney or Grossman?…"
"…Delaney, he has a snorkel 'cuz he's a safe diver."
"John, tell us a story."
"The breakfast was great but Jimmy Buffet still sucks."
"Oh great. Somebody just flushed…a DOUBLE flush!"
"The fish wins!"
"Don't beat me unless you mean it."
SURFACE
PALAWAN - ABOUT AS GOOD AS IT GETS
The planned charter on Great Escape to the wreck of the Palawan was not a club big seller. With only fourteen on board, life was very comfortable. For those of you not on the boat you missed a great dive!! As most seasoned divers know, the Palawan is typically surrounded by poor visibility, open ocean "slop" and on occasion, high currents to boot. Well, none of that! The ocean was calm, there was zero current and visibility was 40 to 50 feet. One could just see the starboard "rail" from the port "rail". After the first dive it was the general consensus that this particular wreck doesn't get much better, so we elected to make a second dive in brighter sunlight. For most divers "hanging-off" for awhile was a must either on both dives or certainly at the end of the second. The water temperature changed from the mid -sixties at the surface to the low-fifties at depth. On the second dive, Kathy D. and I did a complete lap of the hull noting that the stern is twenty to thirty feet deeper than that of the bow. Staying a few feet above the "rails" one drops from just over 100 feet at the bow to about 125 feet at the stern. Interesting swim!! With most of the morning spent on the Palawan we moved for one long, or two short dives on the Dominator and surrounding reef. Depths to 35 feet or so, slight swell but calm, no current and 40 plus visibility. Temperature was in the mid-sixties.
We don't do many wreck dives as a club, and obviously either wreck diving and/or deep wreck diving is not a strong desire in the club. Never the less ya'll missed a beauty, maybe we'll package it differently next year!! There were no boobies which is good on this type of diving. We were back at the dock by 4:30 PM which is always good for Sunday diving. The food and the crew of Great Escape were - as usual - excellent. We did notice that Terry was conspicuously absent. We've seen him as a divemaster and more recently as chef-in-training. The rumor was that he's now trying his hand as a dock-boy apprentice but apprentice types aren't allowed to work on the docks on the busy weekend days!
PALAWAN QUOTES...
"Drove from Redondo to San Pedro for 20 minutes. Rode a boat for nearly two hours, and my apartment is right over there!"
"Brought the quotes up, there ain't shit on them...There's a quote!"
"He's trying to teach me about diving on wrecks. This one had two pointy ends. Go figure!"
"Wreck scallops, rich in iron"
"Drink service on the upper deck, just like a cruise ship..."
"...Yeah, all you need now is a casino."
"We came for the Palawan dives, done that, we're done!"
"By the way, where's Terry?"
BEGG ROCK, POINTS WEST…SANTA BARBARA, POINTS EAST!(click for more photos)
First question on boarding Great Escape was "What's the fallback plan?". "Santa Barbara Island" was our reply. Begg was out, at least for the first day, with unforecast winds increasing noticeably during Thursday evening. The ride to Santa Barbara was quite lumpy, but once inside the lee of the island calm set in and we finished the night in Arch Anchorage.
At early light we poked west and east only to find fairly ugly conditions both sides of the island. First dive spot was on Brittle Star Reef, just barely protected from the swells and wind chop. Depths to 75 feet with a slight current, 63ºF surface temperature with a 8ºF thermocline at 45 – 50 feet. Brittle Star Reef it was but with great visibility in the 50 feet range. Dive two was off the south-east tip in very similar conditions to dive one. Tim B. saw a drop off of 15 feet or more and thought this may be worth the effort. Few divers found the drop off, although I found one of 7 feet and one of 8 feet!! Not a bad spot, though a little barren.
The third dive was at White Rock Cove. This spot has an arch close in to the island and adjacent to the arch, a tunnel well worth exploring. Visibility dropped noticeably as did depths. Water temperature was up a degree or two. Dive four we tucked into the lee side of Sutil Island. It was surgy and again visibility dropped to 20 – 25 feet. Water temperature remained around 62-63ºF. Lot's of rock and roll on the boat due to the swells reaching between Sutil and the main island. The fifth and last Santa Barbara dive was just west of Arch Point at The Rookery. At least it was calm and not surgy. Not a bad spot! All in all Santa Barbara diving was pleasant, given the quirks of Mother Nature. Two of the more dedicated hunters even managed to bring up a couple nice halibut. A first on a Sea Diver trip for a long time.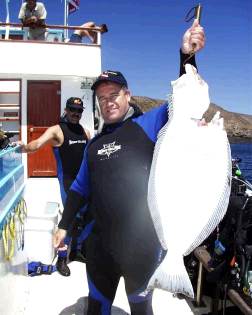 Decision time! The marine forecast was not encouraging. Winds were to increase overnight, then drop to similar levels to those were experiencing Friday. We decided to run for Cat Harbor on the backside of Catalina, at least this way we would have a comfortable overnight spot and could run out to Farnsworth Banks, if conditions allowed. Some divers actually made two dives (six and seven for the day) in Cat Harbor at the Anchorage.
Day two dawned bright and clear with a strong breeze still present. The swells were up and Farnsworth was out. We ran all the way along the backside, around the East End to attempt Little Farnsworth. No go, other fishing boats and Atlantis were already there. A 180º headed us back to Church Rock for dive one. Turned out to be a nice comfortable dive in up to 50 feet depth, visibility at 30 to 40 feet, 60ºF plus temperature, calm and no current. A few scallops were available.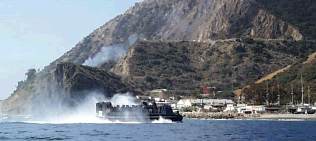 There was a brush fire on the Island and we got to see the ferrying of fire personnel and supplies via a hovercraft. Is there potential for a diveboat here? We then made a lengthy run to Long Point. Nice dive spot, tough anchorage due to small boats, kayaks and the 6 or 8 divers in the water were recalled. Not a pleasant dive!! Moving north and west dive three was at Twin Rocks in up to 75 feet of water but poor visibility at 20 –25 feet. The final fourth dive was at Lion Head which turned out to be one of the better spots, with visibility somewhat increased to 35 feet or so.
After three successful years in a row to Begg Rock for this two-day, the trip was obviously disappointing. The efforts by the crew to find good spots under the circumstances and make the diving enjoyable were excellent. Several good and hearty meals were whipped up by Chef Alan, assisted by 'Chef-in-training' Terry who apparently made a career change from divemaster after the last Sea Diver trip. Mr. Weather just didn't cooperate, which has been the story for 1999. Seems like El Nino, good diving later, La Nina, later diving sucks. Ah well. We've got some great dives ahead, hopefully things will improve weather-wise.
SURFACE
JULY TWO DAY QUOTES…
"Quite the pair!"
"There's a face from the past."
"My wife moved from number one to number two…
"…No, she moved from #1 and #2 to #3 and #4."
"He's looking for the spot that sucks the least."
" 'rose off my bunk a couple of times last night."
"When it's brown, it's done. When it's black, it's buggered."
"There's a spectacular 15 foot drop off, either to the right or to the left…"
"…We found it. It's about 25 feet, to the left…"
"…No, to the right wasn't it?"
"Most of me's OK."
"Faisal, are you waiting for the Dive du Jour?"
"Write that down figuratively…"
"…He can't spell that any better than I can say it."
"Don't say I never gave you anything…"
"…But at least it doesn't itch."
"There's three words you'll use for the rest of your life 'you're right dear'."
"There are some people that come out of the shallow end of the gene pool."
"Is there adult entertainment on this boat?"
"Let me out, I need air."
"It isn't easy being a stud."
"Great piece of docking, hey?"
"Quite the anchoring moment."
"Finding the right spot is like sniff and look, sniff and look, like a dog."
"You didn't get me back yet…"
"…I'm in a weakened state…"
"…because you're female?"
OUTSTANDINGLY DIFFERENT
The 26 June dive was our club's first venture into oil rig diving. The day began overcast (what's new?) and diving began on Eureka which is in 700 feet of ocean (i.e. no bottom!). Great Escape was to be a "live boat" for the day, the technique being to come close to the oil rig drop off about one third of the divers on board, then regroup for the next one third and so on. Surfacing divers then grouped up to be picked up by Great Escape (i.e. no tender). Worked real well.
Eureka is covered in a myriad of sea life. In particular, huge mussels and large to huge scallops, the deeper the larger. Some of the support legs and cross-bracings are, on a smaller scale, as beautiful as any of the best reefs around. For both dives on Eureka, the swells were minimal, a major plus for rig diving, there was no significant current, another major plus, visibility to 60 feet and just over 60ºF temperature. The only negative, brighter sun would have helped the whole effect. Scallops galore!!
We moved to the double rig, Ellen/Elly and made two dives there. Conditions were much the same with a slight increase in swells and reduced visibility of 45 to 50 feet. Not quite as spectacular as Eureka but still an outstanding diving. The sun finally came out during the first dive on this rig.
Both series of dives were also great for video and photography, especially Eureka. We arrived back at 22nd Street early at about 4:00 PM after an unusual but outstanding day of diving. We do plan to dive rigs again, as everyone on board was delighted with the whole day. Three boobies of note: Kathy D. had her shorts on inside out, Kathleen T. did a spectacular head first entry into the galley, and one divemaster (hint: Terry) had to be dragged (a.k.a. 'rescued') to the boat with a bag full of scallops he wouldn't relinquish!! The boat was well run under skipper Dave and the food was good to excellent.
SURFACE
NICE DAY OUT TO CLEMENTE
With the weather forecasting being essentially wrong most of the year we were pleasantly surprised to anchor over Nine Fathom Reef about 6:00 AM, on Saturday 5 June, per plan! The morning overcast was with us and the swells were manageable. Nine Fathom is always a nice dive but this early it was dark down there. There was no current, depths to 80 feet, visibility over 40 feet and 52º/53ºF temperature.
A visual of the backside said OK but surgy and probably dirty. We headed east looking for a wall just east of Castle Rock. Didn't find the wall I was thinking of but the second dive was a nice spot. Conditions were much the same as at Nine Fathom with less swell action and a lot more kelp. The third spot was near the wreck of the Koka at the southeast tip of Northwest Harbor. Nice spot but we have dived it many times and the sun was out……! Conditions were calm, increasing current, especially outside the wall, depths to 100 feet, 40 to 50 feet visibility and 54ºF water. Rumor had it that there was another wreck 1000 yards west of the Koka. We tried, no luck. Depths to 40 feet or so, calm no current. More kelp!!
All in all it was a nice day of diving and with bright sun from about 10:30 on, a nice warm day. Beat most other things I would have been doing otherwise. The boat food was excellent, especially the pork at lunch time – in fact we asked Steve for his "secret". We will try it at home although we aren't professionals!! The only real booby of the day was a Navy exercise in which they blew something up, set fire to it and created a huge black cloud which partially obscured the sun for 30 to 40 minutes!! So much for clean air. The run back was uneventful and about 30 minutes shorter than announced. Good!!
SURFACE
JUNE QUOTES…
"If you have to rescue me bring a beer 'cuz I'll be done diving."
"We have a dog…"
"….Don't tell Pierre he may eat it!"
"All the 30 year olds are falling apart!"
"Cell phones…ah well!!"
"I'm done…see ya!"
"Days of Our Dives."
"Kelp flies. Great."
"Wrong spot but Hey!"
"It's colder than a witch's tit…"
"…Have you ever felt a witch's tit?.."
"…Yeesss I have!!"
"I came up with nine excuses, but he came up with ten different days."
"The wreck of the U.S.S. Unknown."
"A collision avoidance 360º."
"Four basic food groups, ice, vodka, potato chips, and red meat."
"Who's driving? He keeps spilling my drinks!"
"I'm fried!"
"I'll try anything that's not good for me."
"The good news is we'll be home early enough for me to clean my dive gear. The bad news is we'll be home early enough for me to clean my dive gear."
"Nice ramp. The rest sucks."
IN SEARCH OF…MIGUEL
With a good earlier forecast for weather, and an early morning trip to the head on Peace showing us well along the south side of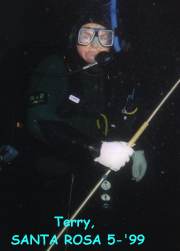 Santa Rosa Island, San Miguel seemed well within our grasp. However, rounding South Point, to head into San Miguel Passage, showed us a very different situation. The wind was up, way up, the channel was already relatively rough and San Miguel was out! Eric B., skipper and owner, elected for one dive just west of South Point in somewhat challenging surface conditions. Major surface chop with flapping kelp in a 30 knot wind, boat swinging 90º.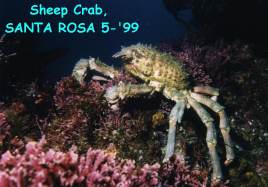 Seven divers entered the water, one aborted immediately! For those that persevered, diving was good in 50ºF water and good visibility. Little did we know it was to be one of the best spots for the two days.
Dive two was in the western portion of Johnson's Lee. Not the undersea garden spot of the planet. Visibility dropped noticeably to 30 feet or less with depths to 50 feet. Water was calm and the wind less intense. We then moved about a half mile easterly and northerly within Johnson's Lee. The wind had increased dramatically and with nineteen divers in the water Peace began to drag anchor. The net result was divers all over the place and generally far from the boat. Pick up of all nineteen was made safely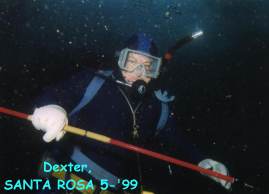 with Peace moving from group to group. Other than that this dive sucked!! 'Nuff said.
That was all she wrote for Santa Rosa and we headed back across a nasty Santa Cruz Channel to an anchorage just east and north of Gull Island. Still plenty of wind and surface chop but the sun was out! Depths here were to 45 feet, 50ºF temperature and visibility in the 20 – 30 feet range. We headed further east along Santa Cruz to Albert Arch. Finally no wind, calm, warm in the sun, nice. Many had quit diving by this time. Water temperature was up to 52ºF, no current and depths to 50 feet. Not a great dive spot but OK for the day. Our final sixth spot was the overnight anchorage at Coches Prietos, much the same conditions as dive five.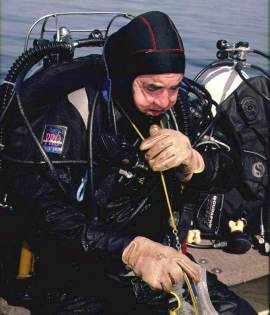 Early on the second day engines up and away we go. West, not east, again looking for dives on the east and perhaps north sides of Santa Cruz. Not so, the water was mostly green and ugly. Where now? Anacapa was our only choice and we headed for the West End of the island, anchoring close in to the reef. Nice dive in calm 51ºF water to 60 feet and 35 – 40 feet visibility. This was probably the second best dive of the trip. Subsequently we dived about one mile east of the first dive, and then two dives on Coral Reef on the south side just east of Cat Rock. The dives were in the OK to good category. Conditions were much the same for all four dives at Anacapa. The weather was mostly overcast until early afternoon. All in all not the greatest of diving for the two days, but the boat searched for any opportunity for acceptable dive conditions.
Of note were two major booby award attempts. Peter L. reaching forty feet on the first dive of the first day sans weight belt which was totally overshadowed by John D.'s series of 'errors' at the same dive spot. John D. who was diving in a relatively new dry suit: a) forgot his computer(s), b) forgot to bring and/or connect a suit inflator hose, c) blew out a fin strap, d) worked hard to install a low pressure hose onto a high pressure port (John – man of infinite adapters!), e) blew out the low pressure hose, and f) actually went diving again!!!
Crew support, food and overall running of the boat was excellent. As always it's great to be out on the Peace even if the weather and the ocean doesn't cooperate. See you for another San Miguel attempt in September!
SURFACE
MAY QUOTES…
"If you can't kill yourself, it's not a sport."
"I should have brought the IDI straps."
"What's happening? Everyone is getting dry suits."
"My Trimix instructor got bent last weekend."
"The Chamber has old movies and no drinks."
"The last time I clicked on 'Delaney', it went to DAN."
"It's after nine, crashing is allowed."
"I don't mind working, I just don't like working on days I planned to screw off."
"Female attached…actually a lease."
"Sign-ins are slow."
"Not for the faint hearted, it's knarly!"
"What's the forecast, ugly and uglier?…"
"…You got it!"
"I couldn't understand why I couldn't get the air out of my BC – no weight belt."
"Man, that's cold!"
"Last month it was 42? at San Miguel. I made one dive and an entry…"
"…42? is cold!…"
"…No, it's ridiculous!"
"Man, that's the longest 10 minute dive I ever did!"
"All I did was chase the boat."
"That was fun. You guys are swimming too far from the boat."
"They make it idiot proof and just build a bigger idiot."
"That's the first time I've ever done roll call from the head."
"You can always learn from Delaney's mistakes."
"Harrison Ford wins, same plot."
"I'm thinking of becoming a virgin one of these days."
"We're going to the third island of the trip 'cuz this island basically sucks…so we'll be diving beautiful Anacapa Island this morning. I don't hear any cheering or anything."
"Where's Little Peter?…"
"…No guy is going to answer to that!"
"There's no way, well there should be no way, to finish down current on this dive."
"Delaney's a 'wreck diver' but that's another story."
SURFACE
FARNSWORTH AFTERMATH
April turned out to be a weird month weather-wise. On Friday the 9th the wind was howling, the channel between the mainland and Catalina was very ugly and the marine forecast did not show diminishing winds until well into the night. Just before 2:00 PM Tim Burke and I agreed to cancel the Farnsworth trip on the 10th (6:00 AM departure). Curt Billings got the word out to everyone and we re-planned our collective weekends.
Saturday the 10th was just great, no wind, clear, visible ocean was calm and it lasted all day. An 'oopsie' on cancellation? Not likely. We probably would not have made Farnsworth and we had already dived the frontside of Catalina as a fallback for the February Santa Barbara dive, so we believe it was the right decision. On to May!!
FARNSWORTH QUOTES:
Is the trip going...Yes
Is the trip going...Yes
Is the trip going...Hmmm
I was just sitting here trying to figure out how to tell you I didn't want to go.
The dive has been canceled...Hooray!
But I was looking forward to it...I even greased my "O" rings
SURFACE
...AND SAN NICOLAS IT WAS...
We arrived off the South East point of San Nicolas Island just after daybreak. It was calm and there was not a cloud in the sky. A great day ahead. We anchored in thick kelp over the Sand Spit in about 55 feet of 50 feet visibility water There was a noticeable current, but quite manageable. Water temperature was 51°F/52°F, definitely cooler than last year! The boat netted nine bugs on this dive, not bad.
We moved to the west end of Dutch Harbor for the second dive. Visibility dropped 5 or 10 feet but otherwise it was much the same as dive one. In close - 15 feet or so - surgy was 'in'. The spot used to be a good bug spot. No so today!! Dive three was in the east end of Dutch Harbor. Again visibility dropped further 5 to 10 feet. No bugs!!
Two items of note from the trip. The kelp is now extremely healthy and thick The water temperature being more normal than say last year. Management of kelp when diving is a must otherwise entanglement is a definite. Second item is that we are going to manage our gate times better. The first dive plus the short move took two and a half hours, far too long when you've made a seven hour run for a single with a seven hour run back to 22nd Street. The second dive including another short move took just over two hours.
The day was just outstanding, for the middle of March, and somehow Tim B and his crew ran from San Nicolas back to 22nd Street in six and a half hours!! It was calm, and it was nice to make an outer island. There were no serious boobies and the food fare was excellent especially the chicken for lunch.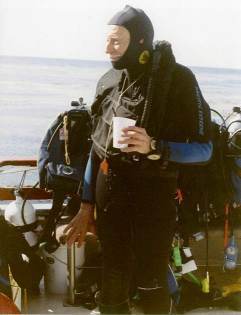 SAN NIC QUOTES
"When I realized I couldn't get it, I declared it short!"
"I live for pancakes...
... me and the pancake man are going to get along just fine."
"This is my 'Go Sea Divers' tank."
"3000 psi in a twenty-six year old steel 72, think I ought to let some air out..."
"...don't leave it in the sun."
"Oh, you're good..."
"...No, the flies are slow."
"Didn't you once own a quarter million dollar T-shirt?"
"He needs to see the whole thing.."
"... he's seen the whole thing from every angle and direction imaginable!"
"You have a new friend!"
"Tact isn't your strong point John, it's mine."
"That's amazing, you're actually drinking scotch..."
"...I'm making do!"
"This dock sucks."
SURFACE
CATALINA - AH WELL!
As we passed off the West End of Catalina, en route to Santa Barbara Island on the Great Escape, the early winds of a small but persistent storm began to rough up the ocean. Fearing a worsening scenario, Tim B. turned around and headed for the calm of front side Catalina. We anchored before first light just south east of Long Point at Talquot Springs.
Diving began about 7:00 AM. The water was calm, no current, 30-40 feet visibility and a balmy 54°F or so. Depth to the sand was just over 90 feet, sloping up over rocks to about 20 feet at the plateau. Not a bad dive. The second dive was at Long Point on the east side of the point and the extending underwater reef This is a good spot, but no large living sea life. Picked over big time. Water much the same as dive one. Dive three was at Middle Quarry. Again not a bad spot with much more kelp. Visibility dropped about 10 feet, but otherwise conditions were the same. Depths to a more shallow 60 feet or so.
After some discussion regarding a dive at Blue Caverns, with potential for a deep dive, we moved to Emerald Cove and Indian Rock for two dives. We completed one and most quit for the day making for a relatively early return to 22nd Street at 4:10 PM. This was good, as it was Sunday evening with gear cleaning and Monday ahead. The weather was not pleasant after mid-morning so all in all is was one of those "ah-well" days. Food was good and the limited load was great. Hope for better to San Nic in March.
QUOTES FROM THE 'AH WELL' TRIP...
"Allen! You missed it, we'll do it again..."
..... Thanks!"
"What is this place...?
"...Catalina."
"I'm going to the 'John Tadlock School of Diving'."
"I found a five-pounder!"
"I was afraid to ask who's it was or what it was for when I saw an extra large jar of petroleum jelly in the head!"
"I've slept thru the first dive before but I had never slept thru the second one!"
"Sunday go to diving pants."
"At least it's not snowing... or blowing gale winds. yet!"
"She'll probably make some up on her own."
"They're mostly one-cheekers."
"So, have you slept with her yet?"
"Give it to someone who cares.
"A classic."
"No, no, you don't need her, try an eighteen year old."
"She was already married. I went away and when I came back two weeks later she was already dating some other guy."
"See anything yet...? Fog."
BACKSTROKE TO THE MAIN PAGE